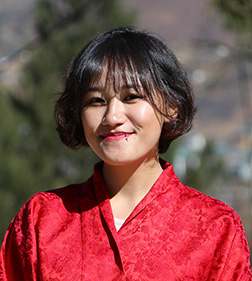 The Royal Thimphu College would like to congratulate Ms. Dilisha Subba, RTC graduate of 2018, for being selected for this year's prestigious annual Indian Ambassador's Scholarship for post-graduate studies at a reputed University/Institute in India.
The recipient of this scholarship will be granted a lump-sum amount of Rs. 200,000 per year or Rs. 400,000 for pursuing a 2 year long post-graduate course. His Excellency the Ambassador of India to Bhutan, Shri Gautam Bambawale, first announced the scholarship at a distinguished guest talk at RTC in April, 2015.
Ms. Dilisha Subba has been selected through a highly competitive application process and will be pursuing her Master's degree in the field of English Literature starting Spring 2019.
During her stay at Royal Thimphu College, Ms. Dilisha Subba was on the President's and Dean's List (scoring 80% and above) in recognition for her academic excellence. Ms. Dilisha was an active student and participated in various programmes in the college. She was a prominent member of the Performing Arts Club at the college.