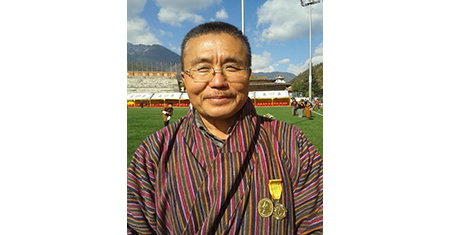 The Royal Thimphu College is pleased to announce the appointment of the new RTC President, Tshewang Tandin, with effect from January 2019. He will formally join office on December 29, 2018.
Incoming President Tshewang Tandin is a career educator with over 35 years of experience in secondary, tertiary, and higher education management in Bhutan, including over 30 years in senior managerial and leadership positions. He shares a deep interest in the well-being of students and staff, increasing access to educational opportunities, strengthening organisational culture, enhancing opportunities for professional development, and improving the quality of teaching and student learning.
For the past two and a half years (2016-2018), he served as the Director General of the Royal Institute of Management. He previously served as the Director General of the Department of Adult and Higher Education, Ministry of Education (2012-2016), where he was responsible for adult literacy programs, continuing education, higher education policies, registration and licensing, funding, accreditation and quality assurance, and implementation of national scholarships. Under his leadership, the department instituted the development of the Bhutan Accreditation and qualification recognition systems.
From 2003 to 2012, he served the Department of School Education at the Ministry of Education, first as its Director and then as Director General from 2009. He was responsible for the management and leadership of national education programs and administrative functions including policy planning, human resource development, financial management and performance management. He previously served as the Principal of Sherubtse College and the Principal of Yangchenphug High School and Paro High School, as well as in the capacity of a Vice Principal and teacher at Sarpang High School.
President Tshewang has been a member of several committees and boards nationally and internationally, including Academic Planning and Resources Committee of the Royal University of Bhutan and the Advisory Board to the South Asian University. He was also the national coordinator for the development and implementation of the Education for Sustainable Development strategy, 2004-2012 and the national coordinator for the development and promotion of Gross National Happiness strategy in school curricula, 2009-2012. He has taught educational management and leadership courses, and values education courses to Master's degree students and in-service senior teachers at tertiary institutes including the National Institute of Education in Paro, Bhutan, and St. Francis Xavier University in Nova Scotia, Canada.
He has been the recipient of the Education Excellence Award for outstanding contribution to education by CMO Asia, and the Civil Service Gold Medal for 30+ years of service awarded by Royal Civil Service Commission of Bhutan.
RTC welcomes our new President with great enthusiasm as the College completes its first decade of operation and forges ahead towards its vision to become an institution of academic excellence that sets inspiring standards for education by challenging its students to achieve their full potential and to become independent life-long learners who are well-rounded, responsible citizens.