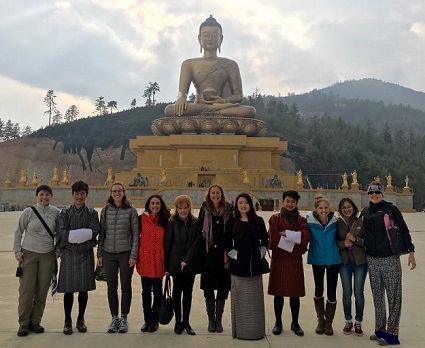 The Royal Thimphu College welcomed the 1st ever group of students and faculty members from the Middlebury Institute of International Studies at Monterey in California, USA this March, 2016. MIIS is one of several educational institutes around the world with which RTC has an academic partnership. The partnership was established in 2015. 
The 10 students and the 2 accompanying faculty spent 10 days in Bhutan, engaging in academic and field activities for the programme themed "The Challenge of Change in Traditional Societies." The group resided on-campus at the Executive Centre guest house. The group had the opportunity to talk with the President of RTC, as well as attend lectures and discussions by local community leaders that were specifically organized for them, such as "Health System in Bhutan" by Dr. Gado Tshering, "Bhutan: Choices and Challenges" by Dr. Karma Phuntsho, and "Rural and Community Development" by Aum Chimi P. Wangdi, among others.
The programme, which was initiated by Dr. Jan Black and Professor Carolyn Taylor Meyer, included trips to Paro Dzong where they were able to witness the famous Paro Tshechu. The group spent a night in Phobjikha Valley with local farmers / host families, giving them the chance to interact with them and gain their perspective of GNH. Although the Black-Necked Cranes had already gone to their summer homes, the group was able to visit the injured bird recuperating at the Black-Neck Crane Centre. The group also visited historical places such as the Memorial Chorten, Kuenselphodrang, and Dochula, where they had a spectacular view of Bhutan's pristine environment and untouched mountains.