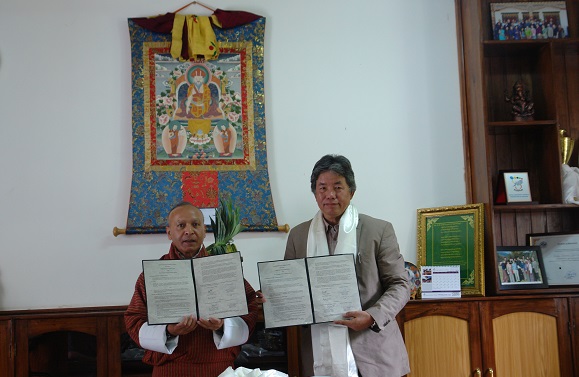 The Royal Thimphu College and Sikkim University (Gangtok, India) signed a Memorandum of Understanding on Wednesday, 17th August, 2016, corresponding with the visit by the Honourable Vice Chancellor of Sikkim University, Professor (Dr.) TB Subba. The partnership aims to:
Enrich the educational environment of both institutions through, but not limited to, education and academic exchanges.
Increase educational opportunities through teaching, research, seminars, workshops, publications, etc.
 Improve inter-institutional contacts by facilitating access to field areas, libraries, laboratories, and through intellectual exchanges.
Sikkim University although just 9 years old, it was ranked 61st over 740 universities and 4th in Northeast India in April 2016 by the National Institutional Ranking Framework of the Govt. of India. Prof. Subba expressed his faith that with the signing of the MoU, there would be opportunities for the two institutions to collaborate in a variety of fields. Given Prof. Subba's background and expertise in Anthropology, a round table discussion was also organized around his visit to discuss with local stakeholders and experts RTC's plans to develop a Bachelor's degree in Anthropology.