Thimphu Thromde coordinated several rounds of sensitization and training on updating the OpenStreetMap (OSM) base map of Thimphu. OSM is a collaborative and participatory project to create freely accessible and editable maps of the world. As part of the project funded by the World Bank, trainers from Kathmandu Living Labs have trained a group of students from Royal Thimphu College who are currently studying Geographic Information Sciences and Technology as part of their BSc programme in Environmental Management.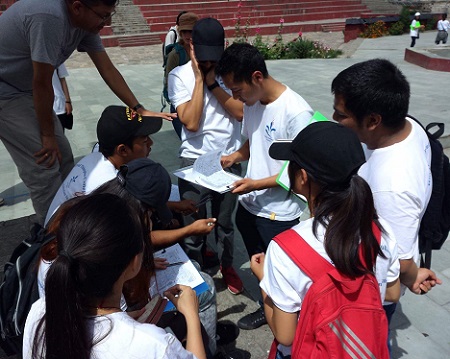 The students have been successful in mapping several areas of Thimphu by collecting data including, but not limited to, building numbers, information on new buildings, shop names and timings, bus stops, and ATM machines. The core city was divided into areas of manageable acreage, and students were deployed in pairs to map the city. Dividing the areas helped to distribute their efforts evenly across the main parts of the city to ensure adequate coverage. The students' efforts were valuable in contributing to Thimphu Thromde's online City Address System for the residents to use.
Community members in of the city of Thimphu can also use the updated OSM for any spatial queries, such as finding a particular shop and navigating to it. The advantages of OSM come with availability of offline apps like "maps.me" compatible with both Android and Apple smartphones. OSM can be directly accessed by visiting osm.org either on desktop computers or mobile devices.
Because an OSM map of a locality can be updated using simple user-friendly mobile or desktop tools, which also have the capability to collect geographical features like footpaths, boundaries, etc., as well as allow users to take notes and photographs at locations of interest, it is hoped that wider community participation will follow this pilot training. Hopefully, this work will not only make useful data available to a multitude of users, but also contribute to increased awareness of infrastructure in Thimphu like shops, offices, public spaces and recreational places. "My hope is that when students return home, they will map their neighbourhoods and villages and directly upload these on the OSM website", explains Ms. Leslie Backus, Associate Professor, who led the team from RTC.
Sonam Tshewang, GIS officer with Thimphu Thromde, states "the Thromde is very grateful to the GIS faculty and students of RTC for their contributions towards mapping of Thimphu City on OSM, and is looking forward to work together more henceforth". At the moment, creating awareness amongst the residents of Thimphu is important to the Thromde so that residents can make good use of the City Address System. All buildings are now numbered and roads have been officially named through the joint efforts of Thimphu Thromde and Bhutan Post. Sonam Tshewang noted that beyond making mail delivery more efficient, accurate mapping of buildings or houses and residents will also be critical in times of disaster and emergency. Information on types of building and numbers of occupants will guide authorities to prioritise or channel relief efforts like search and rescue, or food and medical supply, if any disaster like a major earthquake strikes. Law enforcement and fire protection services will also benefit from updated, accurate city maps.