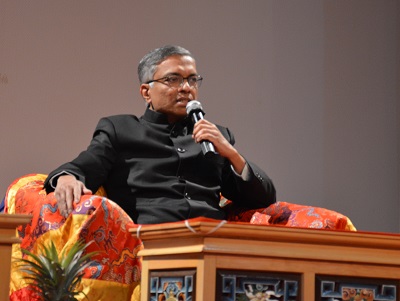 The Indian Ambassador to Bhutan His Excellency Jaideep Sarkar made a visit to the Royal Thimphu College on the 22nd of March 2017 and gave a talk on the Indo-Bhutan bilateral relationship.
His excellency talked about the importance of Bhutan in India's foreign policy citing India's Prime Minister Narendra Modi who stated, "Bharat for Bhutan, Bhutan for Bharat".
Also highlighting the various features of the relationship that the two countries share, His Excellency pointed out that the main pillars that help upkeep the strength of the bond are firstly, the close personal ties and common vision that the past and present leaders of the two countries share, the respect that the countries have for each other's sovereignty, security and integrity, the expanding economic partnership, the development partnership (in regard to Bhutan's Five Year Plans) and the historical, religious and cultural exchanges that date back many centuries.
Among other important topics, His Excellency discussed the activities and events in the recent inter-related history of the two countries from flushing out of the Indian militants in 2003 to Bhutan's growing hydropower plants, cultural exchanges, and the unwavering economic support the two countries have had for each other through the years and how these have contributed further to strengthening the alliance between the two nations, irrespective of the differences in size in terms of geography or economy.