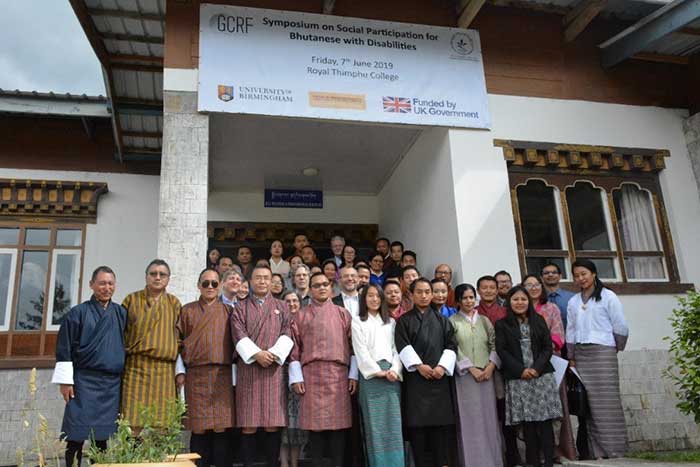 Royal Thimphu College partners on a major international project on employment and social participation for young adults with disabilities in Bhutan.
The project is funded by the British Government's Official Development Assistance under their Global Challenges Research Fund scheme and will be a Nu 50M effort that runs until 2021. The name of the project is "Understanding, Developing, and Supporting Meaningful Work for Youth with Disabilities in Bhutan: Networks, Communities, and Transitions" and is in partnership with the University of Birmingham (UK) and the University of Minnesota (USA). It is a major research and community engagement initiative to support youth and young adults with disabilities in Bhutan in employment, entrepreneurship, social participation, and community inclusion.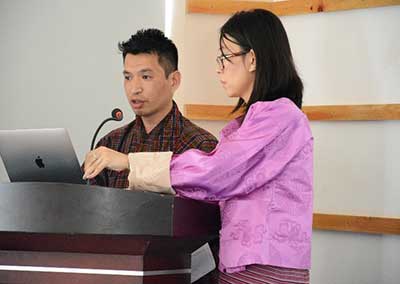 On 7 June, RTC hosted a symposium on the issue of employment and social participation for Bhutanese with disabilities that was co-presented with international and local Bhutanese partners. The Chief Guest and opening speaker was Dasho Sonam Wangchuk, Secretary of MoLHR, who spoke on the importance of multiple sectors working together on these issues. Speakers also included professors from the USA and UK, representatives from MoE, JDWNRH, and the Bhutan Foundation.
The principle investigator for this project is Dr. Matthew Schuelka from the University of Birmingham. According to Dr. Schuelka, "This project is very important for Bhutan. I have been working on disability issues in Bhutan since 2012 mainly to do with inclusion in schools, but thinking about what comes after school for these youth with disabilities is so crucial. We believe that inclusive education only works if not only do youth with disability has access to high quality education, but also that there are positive opportunities to transition from school to adult life." He added that through this project, "we hope to see where various interventions and activities succeed, and also share the life stories and experiences of persons with disabilities, in the Bhutanese context."

Activities in the project include a nationwide survey of employment and community opportunities for persons with disabilities, skills-for-work training for youth with disabilities, a micro-grant entrepreneurship scheme, and inclusion and accessibility support in employment and higher education. The project will bring 20 Bhutanese to the University of Minnesota for additional training and observation of programmes there. In 2021, RTC will host an international summit on the topics of this project, as well as produce a documentary film on the lives and experiences of persons with disabilities in Bhutan.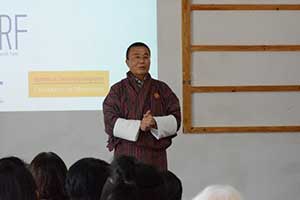 President of RTC, Tshewang Tandin, emphasized the importance of higher education institutions in Bhutan to engage in applied research and community development-focused projects of this nature. He said, "The Ministry of Education has adopted Inclusive Education as a policy in its efforts toward enhancing the relevance and quality of education. Effective intervention at the tertiary level will link well with the efforts in the school system for gainful employment and social integration for youths of all abilities. This is also in keeping with the vision of RTC's enlightened founders that the college has to be a crucible of new ideas and knowledge that serves to enrich people's lives and enhance the welfare of the society. RTC is very fortunate to be a host and partner to this project, as co-academic projects like this stimulate the College to further contribute to communities in socially responsible ways beyond our academic programmes."