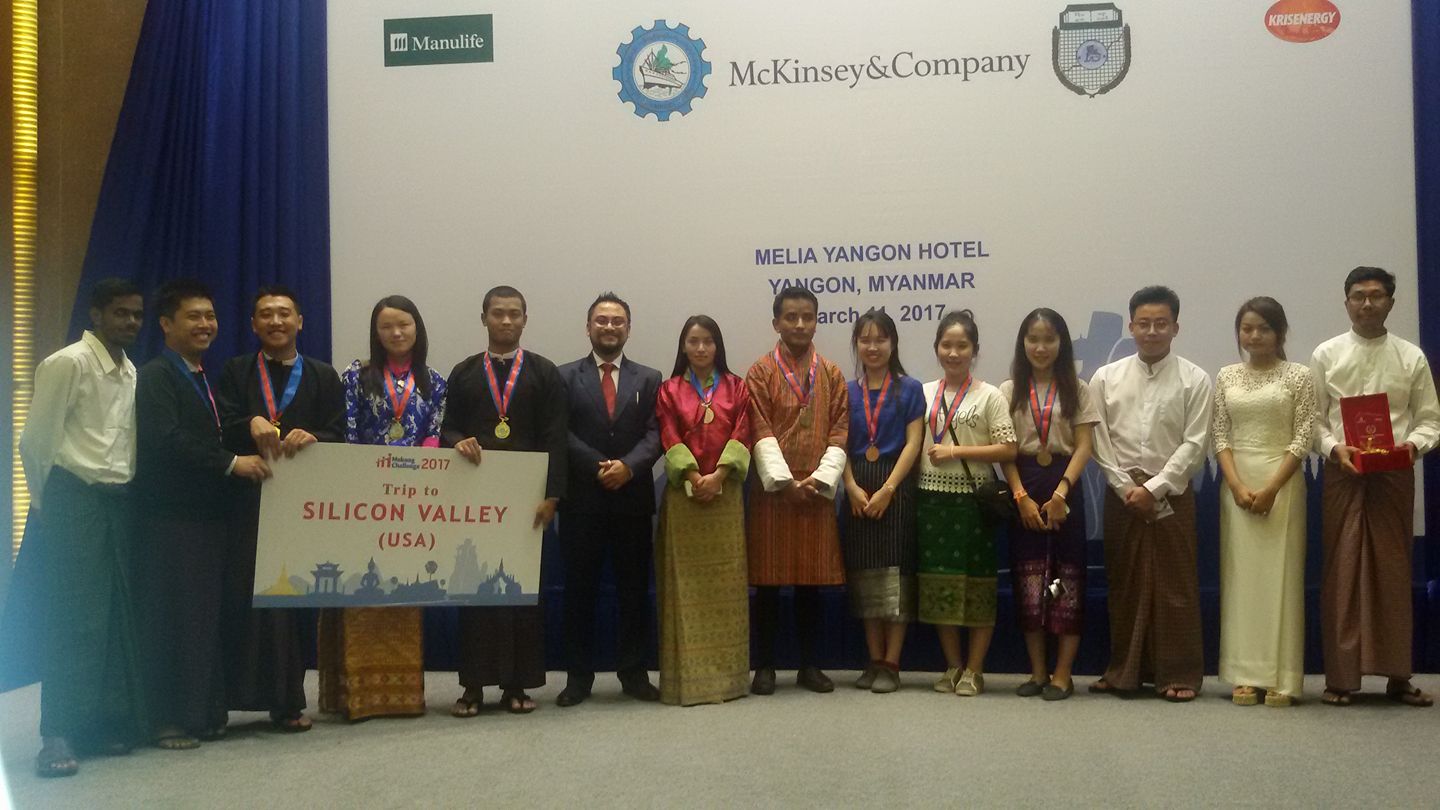 For the second time, a team of Bhutanese students from Royal Thimphu College has won the silver medal at the annual Mekong Business Challenge (MBC) final round held in Myanmar on Saturday, March 11, 2017, in a competition involving teams from the Mekong region (Cambodia, Laos, Myanmar, Thailand, Vietnam, and Yunnan Province of China) and Bhutan.
The RTC-Bhutan team presented the final business model of their entrepreneurial venture, "Gladden Guli", an enterprise based on value-added avocado products made in Bhutan, and placed 2nd after a team from Myanmar in a competition of 11 finalists. The win follows on the success of two Bhutanese teams from RTC that qualified to the MBC finals in Cambodia and came in 2nd and 4th place last year out of 11 finalists.
The video entry for the award winning business model can be viewed online. The Gladden Guli team members, Tashi Dem, Mon Maya Chhetri, and Ugyen Thinley are RTC Cohort 2014 Bachelor of Commerce (Accounting) students. The team was supported in their preparations by RTC Business faculty members Mr. Madhav Verma and Mrs. Kabita Chhetri, among others in the RTC community. The project was also funded in part through sponsorship by Druk Holdings & Investments, Ltd. (DHI).
The team members expressed that working on something new and innovative had always been their dream, and that it was an amazing moment for them to win the silver medals in an international competition after working together as a team on the same goal for over half a year.
A member of the business faculty at RTC attributed these students' success to their dedication and hard work and also to the kind of mentorship students get in RTC's approach to business programme, which emphasizes continuous practical learning and real-world exposure. For example, all RTC third-year business students complete a highly practical project of value to employers under close supervision of an RTC faculty mentor. Such experiences complement students' classroom-based learning and prepare them to deal effectively with the realities of the business world. Dr. Shiva Raj Bhattarai, Dean of Academic Affairs at RTC stated, "This is yet more evidence of what our Bhutanese students are capable of when they are shown the way."
This year's RTC prize-winning team developed a business model for a company called Gladden Guli, which will produce and sell tea made from avocado seed and powder made from avocado pulp for use in cakes, cookies and other items. The extensive preparation and field work required was diligently accomplished by the RTC team under the supervision of two RTC business faculty members. For example, the Gladden Guli team contacted the National Post Harvest Centre in Paro and worked with them to develop their products, after which they got their products tested and certified by BAFRA.
The Mekong Challenge is a "business model" contest, with over 100 teams from South-East Asia competing. This is greatly different from the traditional "business idea" or "business plan" type of contest. The "business model" contest requires each competing team not only to develop an idea or plan, but also requires very extensive field work to talk with potential customers, suppliers, financing sources, potential competitors, government officials, etc. This work was diligently accomplished by the RTC team over the past three months after they were confirmed for round two of the competition. The team continuously revised their initial plans and assumptions as they gained more insight and data from these sources. In this way, the process mirrored that of a real entrepreneur, who is continuously learning from, and adapting to, new information from the market.
One of the team members, Ms. Tashi Dem expressed that "This experience has contributed immensely towards my wholesome education. I have learned about the reality of business world. It's not as easy as what I had previously thought, so this real-world project has really supported my theoretical studies. I learned that every step in planning a business needs innovation the full dedication of an individual."
The Gladden Guli team also surveyed over 100 potential consumers and received highly positive responses. Furthermore, they met several potential distributors and arranged for a local tea exporter to export their product, as well as local handicrafts shops for sale of their tea to tourists. One of the team members already has an avocado orchard, and an additional set of approximately 15 farmers agreed to supply avocados to the team. The team has also received quotations for necessary equipment such as a freeze dying machine. They are looking forward to starting their business by the end of 2018, and have plans to expand their product line by using avocado leaves and other herbal plants.
In light of RTC's very strong performance again, officials of the Mekong Challenge are exploring the possibility of RTC being the host for next year's regional competition.
The entire RTC family is proud of the team members and the college President, Thakur S Powdyel, offered his "heartiest Tashi Delek to our students and colleagues who have brought this joy and honour to our college and country".