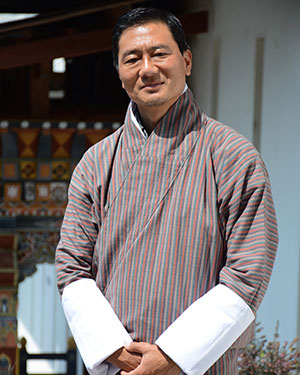 Tenzing Yonten
Co-Founder & Director
Tenzing Yonten is the Co-Founder and first Director of the College. He has a degree in Mechanical Engineering from the University of California, Berkeley, and an MBA from Yale University. He worked as a civil servant in the Ministry of Trade & Industries for 14 years before he left in 2007 to start RTC. As a civil servant, he worked first in the Department of Power and then at the Bhutan Power Corporation. He has experience in a wide range of areas covering policy formulation, planning, project management, contracts, regulation, and operations.
He started work on the RTC project in 2007 and has been fully involved in all aspects of the establishment from planning, design, and project management to institutional development and organization. He served as the head of the college till 2015 and continues to remain involved in the governance and strategic direction of the institution.
He is currently a shareholder's representative on the board of the Bhutan National Bank and is also a member of the National Task Force for the Development of the 21st Century Economic Roadmap. He has served on the boards of numerous organizations such as the Druk Green Power Corporation, Royal Insurance Corporation of Bhutan, Penden Cement Authority, Bhutan Olympic Committee, Bhutan Electricity Authority, the Royal Education Council, and the National Environment Commission. He has also served as President of the Bhutan Basketball Federation and Chairman of Bhutan Telecom. His interests include all manner of sports (basketball, football, golf, biking, etc.), reading, trekking, and travel.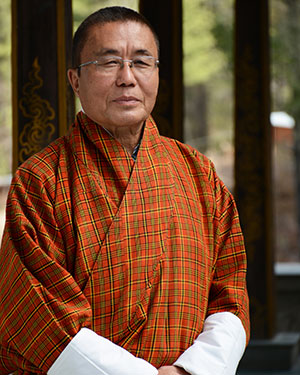 Tshewang Tandin
President
President Tshewang Tandin is a career educator with over 35 years of experience in secondary, tertiary, and higher education management in Bhutan, including over 30 years in senior managerial and leadership positions. Prior to joining RTC, he served as the Director General of the Royal Institute of Management (2016-2018), and as the Director General of the Department of Adult and Higher Education, Ministry of Education (2012-2016). From 2003 to 2012, he served the Department of School Education at the Ministry of Education, first as its Director and then as Director General from 2009. He previously served as the Principal of Sherubtse College, Yangchenphug Higher Secondary School and Paro High School, as well as in the capacity of a Vice Principal and teacher at Sarpang High School.
President Tshewang has been a member of several committees and boards nationally and internationally, including the Academic Planning and Resources Committee of the Royal University of Bhutan and the Advisory Board of the South Asian University. He has been the recipient of Asia's Education Excellence Award for outstanding contribution to education by CMO Asia, and the Civil Service Gold Medal for 30+ years of service awarded by the Royal Civil Service Commission of Bhutan. As a certified counselor and a trainer for Mindfulness, he shares a deep interest in the well-being of students and staff, increasing access to educational opportunities, strengthening organizational culture, enhancing opportunities for professional development, and improving the quality of teaching and student learning.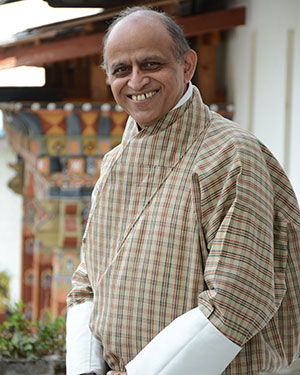 Dr. Shiva Raj Bhattarai
Dean, Academic Affairs
Dr. Shivaraj Bhattarai heads the Academic Affairs of the college. Prior to joining RTC in 2008 as the Founding Dean, he was the Dean of Academic Affairs at Sherubtse College, the lone premier university college in Bhutan till recent times. He has an MSC in Bio-Science and a Ph.D. in Limnology (freshwater ecology). With several years of teaching, research, and administrative experience, he is involved in the administration and management of the academics of the college. A member of the Academic Board of the Royal University of Bhutan, he is responsible for the execution of existing academic programs and for the general academic advancement of the college. For his long and dedicated public service, he received the prestigious Life Time Service Award (Gold) from His Majesty the King in 2013. His other interests include traveling, trekking, reading, and playing indoor games. He is a keen user of social media and blogs at http://shiva-bhattarai.blogspot.com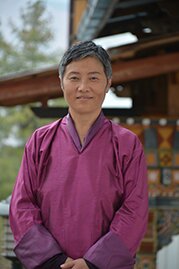 Dechen Dolkar
Registrar, Student Services
Ms. Dechen Dolkar has over 27 years of experience in education – starting as a teacher, then venturing into student learning and education assessment and evaluation, and more recently, in education management. Prior to joining the Royal Thimphu College, she served as the Education Advisor first, then as the Principal of Nima Higher Secondary School in Thimphu. She was a Subject Specialist at the Bhutan Council for School Examinations and Assessments (BCSEA) at the Ministry of Education. Upon leaving the BCSEA, she was invited by the MoE to serve as a member of the BCSEA Board (2014 – 2020). She also served as a member of the Armed Forces School Project Board (2010 – 2015). She has a Master's Degree of Science in Education (track -management, evaluation, and assessment) from the University of Twente, The Netherlands. Dechen appreciates and respects hard work, sincerity, integrity, and humility in people. She enjoys a good book, brisk walks, and travel. Dechen Dolkar joined the Royal Thimphu College family as the Registrar for Student Services Department on the 24th of January 2023.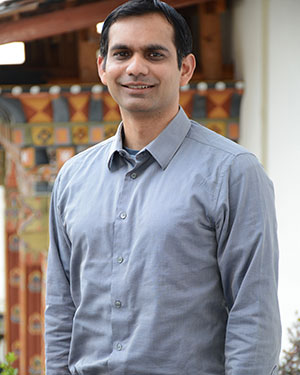 Dr. Samir Patel
Associate Dean, Academic Affairs; Interim Dean, Development and External Relations
Dr. Samir Patel is an Indian-born US national from California, USA. He double-majored in Integrated Sciences & Biology as an undergraduate student at Northwestern University, USA, after completing an undergraduate honors project. He earned his Ph.D. from Stanford University, USA, in Biological Sciences (Cell Biology/Biochemistry). After three additional years of postdoctoral research at the University of California, Santa Cruz, and San Francisco, he came to Bhutan in 2008 to serve as a Lecturer, first in Life Sciences at Sherubtse College in Eastern Bhutan, then at Royal Thimphu College in Thimphu, Bhutan since 2012 as an Associate Professor of Environmental Studies. He has been serving as the Associate Dean of Academic Affairs at RTC since 2013. He currently also advises the IT support department and serves as the Interim Dean for the Development and External Relations Department. His interests include hiking, reading, cooking, and travel.
Ms. Nawang Yangden
Associate Dean of Academic Affairs
Ms. Nawang Yangden started her career at RTC in 2010 as a faculty of business (has taught modules related to accounting, business law, and entrepreneurship) and then served as the Programme Leader for the Business Programme (Bachelor of Commerce & Bachelor of Business Administration) till 2016 before serving the current position. She holds a Master's Degree in Commerce (M.Com with specialization in finance) from Himachal Pradesh University, a Post Graduate Diploma in Higher Education from the Royal University of Bhutan, and a Bachelor of Commerce (Honors) degree from the University of Delhi. She was also appointed by the RUB Academic Board as the External Examiner (for the BCom programme) of Gedu College of Business Studies from 2015-2017 and from 2017-2019, was appointed as one of the members of the RUB's Resource Check Panel for Norbuling Rigter College for the adoption of their Business degree programmes. She was also one of the members of the RTC Professional Services who successfully completed the consultancy work of "Development of FITI's Strategic Business Plan 2019- 2021". Her interests include hiking, learning new things, and traveling.