Mr. Mehta is from Rajasthan, India, and has an MA in Economics from Rajasthan University. He is a NET (National Eligibility Test) qualified lecturer under the UGC and has taught undergraduate courses in Economics, mostly at Sherubtse College, Kanglung. Prior to joining RTC, he was the Head of the Economics Department at Sherubtse College. He has been a member of the academic board and developed the curriculum for BA (Hon) course in Economics. Professor Mehta has also worked as a UNDP lead consultant to develop the Economic Development Policy of Bhutan 2010, MDG sub-national repot 2013, MAF on youth unemployment in Bhutan, and capacity assessment of UN one programme 2014-18. He was also involved in developing textbooks of Economics for class X, XI, and XII for the Ministry of Education, Bhutan. He has carried out research on poverty, inequality, local government, and FDI and his areas of interest include development economics, macroeconomics, globalization, and research. He has also published a book titled "Nature and Structure of Bhutanese Economy".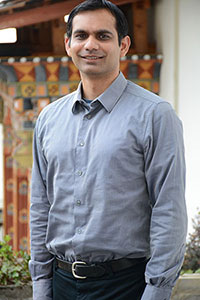 Dr. Samir Patel is an Indian-born US national from California, USA. He double-majored in Integrated Sciences & Biology as an undergraduate student at Northwestern University, USA, after completing an undergraduate honors project. He earned his Ph.D. from Stanford University, USA, in Biological Sciences (Cell Biology/Biochemistry). After three additional years of postdoctoral research at the University of California, Santa Cruz, and San Francisco, he came to Bhutan in 2008 to serve as a Lecturer, first in Life Sciences at Sherubtse College in Eastern Bhutan, then at Royal Thimphu College in Thimphu, Bhutan since 2012 as an Associate Professor of Environmental Studies. He has been serving as the Associate Dean of Academic Affairs at RTC since 2013. He currently also advises the IT support department and serves as the Interim Dean for the Development and External Relations Department.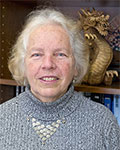 Dr. Janet Schofield is American and her education includes three degrees from Harvard University: BA in Social Relations, MA in Social Psychology, and Ph.D. in Social Psychology. Her areas of specialization include intergroup relations, research methods, use of computers for instruction, applied psychology, and educational improvement. Dr. Schofield has served as a Professor of Psychology at The University of Pittsburgh in the U.S. Her other roles have included: Seminar leader for U. S. Senators; Member of U.S. National Academy of Sciences Boards/Committees; Policy research positions with the U.S. government; Consultant/advisor to the U.S. local, state and federal agencies including the White House, U.S. Attorney General, Assistant Secretary of Education, and U.S. Office of Technology Assessment, as well as to Singapore's National Institute of Education and the Centre for the Study of Peace and Conflict in Cambodia; and Fulbright Specialist in Poland and North Macedonia. The author/co-author of 4 books and over 125 research papers, she has also been a recipient of awards for both research and teaching with her research featured on radio and TV and used by the U.S. Supreme Court. Her personal interests include travel and volunteering service with a group providing educational after-school activities for children from poor urban areas.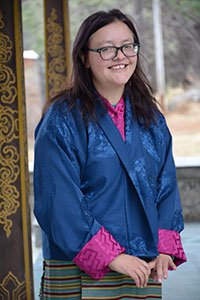 Dolma Choden Roder has family roots in both Bhutan (Bumthang) and Switzerland but grew up in Thimphu. She earned an MA and Ph.D. in Socio-cultural Anthropology from Arizona State University, USA. She also has a BA (honors) in Anthropology from the University of Melbourne, Australia. For over five years she worked in the Anthropology Collections at Arizona State University where she had the pleasure of training a number of undergraduate student workers and interns in collections management and material culture research. She has also taught at Sherubtse College and the School for Field Studies. Her current research and teaching interests are gender, education, family, material culture, and youth cultures. She is an enthusiastic advocate of Bhutanese literature and arts and currently serves as one of the directors for Drukyul's Literature Festival: Bhutan Echoes.
Mr. Kinley Dorji is from Pemagatshel, eastern Bhutan. He has a Master of Science in Environment Management from Forest Research Institute (DEEMED) University in Dehradun, India. He graduated with a Bachelor's Degree in Sustainable Development from the College of Natural Resources, Royal University of Bhutan. Besides teaching, his interest lies in reading, traveling, sports, and community services.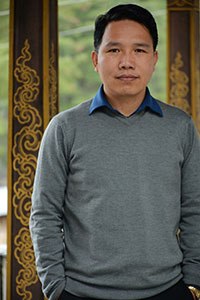 Dr. Leishipem Khamrang is from Manipur, India. He holds a Master's Degree in Geography from the University of Mumbai and Population Studies (MPS) from the International Institute for Population Sciences (IIPS), Mumbai. He has a Ph.D. in Geography from the University of Mumbai. He qualified for NET/Lectureship in Geography and NET/JRF in Population Studies, conducted by University Grants Commission (UGC), India. Before joining RTC, he taught Environmental Studies at Chetana College, Bandra East, Mumbai for two years. He also worked at International Institute for Population Sciences (IIPS), Mumbai as an Assistant Research Officer (ARO) for two years. His last position was Research Officer at the Centre for Development Studies, Tata Institute of Social Sciences (TISS), Mumbai. His areas of research interest are regional development, quality of life, urban development, development, and regional conflict, etc.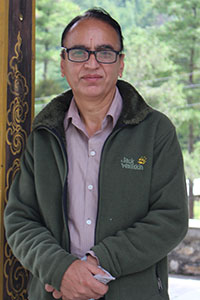 G P Sharma is from Namgaycholing Geog under Sipsu Dungkhag, Bhutan. He holds a Master's in Environmental Science from Adelaide University. He taught in the Natural Resources Training Institute (present CNR) for two decades and has been teaching at RTC since 2010. He attended numerous training, workshops, seminars, congresses both within and outside the country. He enrolled as a Ph.D. scholar in the Institute of Science and Technology under Tribhuvan University. His areas of interest include research, agriculture, and travel. He loves and enjoys playing badminton.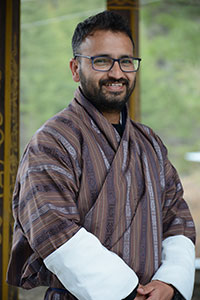 Mr. Rabi is from Dorokha, Bhutan. He completed his Master's Degree in South Asian Studies from Pondicherry University, India, and a Bachelors Degree in Economics and Environmental Studies from Sherubtse College, Kanglung, Bhutan. During his post-graduation, he successfully completed his research thesis on "Monarchy and Democracy in Bhutan, a comparative study". He also worked in Rinchen Higher Secondary School as a History Teacher before joining RTC. His interest includes the study of contemporary international relations, traveling, sports, and music.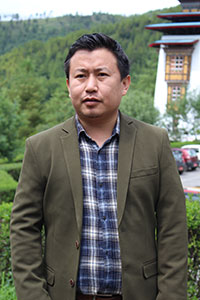 Dr. Richard Kamei is a Rongmei Naga (Kabui) from Manipur. He recently completed his Ph.D. from Tata Institute of Social Sciences (TISS), Mumbai, and his research looked at the diverse pathways of Naga Nationalism rooted around the First World War. He holds an MPhil degree from TISS where his dissertation was ethnographic research on indigenous women and brewing of traditional liquor for commercial purposes. Before his research endeavors, he worked as a research officer and community organizer at Andaman and Nicobar Islands for a community resource center. He also worked with an NGO in Delhi, India800 Foundation, as a researcher. He graduated from Ramjas College, the University of Delhi with a BSc (Hons.) in Zoology, and subsequently an MA degree in Globalisation and Labour from TISS. His current research interests include political anthropology, labor studies, indigenous peoples, northeast of India, and colonial studies. His writings have appeared in academic journals, books, and media.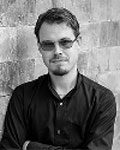 Dr. Jelle J.P. Wouters holds an MPhil (Distinction) in Social Anthropology from the University of Oxford and a Ph.D. in Anthropology from the North-Eastern Hill University in Shillong, where he was also a Wenner-Gren grantee. Prior to joining Royal Thimphu College in 2015, he taught at Sikkim Central University (India) and was a visiting faculty at the Eberhard Karls University in Tübingen (Germany) as part of the Teaching for Excellence, an initiative by the German Research Foundation. He is the author and editor of four books including 'In the Shadows of Naga Insurgency' (OUP 2018) and published over two dozen peer-reviewed articles and book chapters.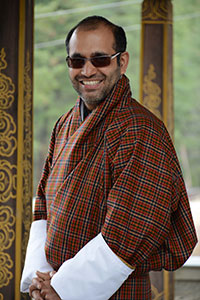 Dr. Chandra is an economist and has earned several degrees in Economics from different countries: Ph.D. and MA in Economics from the University of Hawaii, USA; MA in International Development Economics from the Australian National University, Australia; Post Graduate Certificate in Financial Management from Bhutan; BA in Economics from Coimbatore, India. He also completed a two-year leadership programme from the East-West Center, USA. Dr. Chandra is a recipient of several academic scholarships, including the Royal Government of Bhutan Scholarship, Endeavour (Australian Government) Scholarship, World Bank and Asian Development Bank Scholarship, East-West Center Fellowship, among others. He is a gold medalist in BA Economics; a recipient of the International Student Academic Excellence Award in MA at the University of Hawaii. While pursuing his Ph.D. degree, he served as a lecturer of Economics at the University of Hawaii for four years. He was a research fellow at the University of Hawaii Economic Research Organization, a research assistant at the National Bureau of Economic Research, an assistant consultant to the World Bank, and a committee member to the journal papers (Journal of Banking and finance, and Asian Economic Journal). He also served as a Budget and Account Officer at the Ministry of Finance, Royal Government of Bhutan, from 2005 to 2013. His research interests include development economics, macroeconomics policies, economic growth, well-being, and social welfare.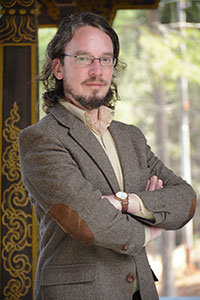 Dr. Shawn C. Rowlands is a British-Australian anthropologist and historian whose work has focused on the relationship between heritage, material culture, collection, and the production of knowledge concerning native identity and practices. With a background in history, archaeology, and anthropology, and a strong focus on the practical and theoretical analysis of material culture, Dr. Rowlands is a particular specialist in Oceania and colonialism. His work has had a broad, multi-disciplinary scope that has explored the exercise of power and agency through the production of thought and the taxonomy of cultures and lived experiences. Beginning his career by studying popular protest movements, especially in pre-industrial Europe and Japan, he later shifted to museum anthropology. Dr. Rowlands has taught at Harvard University, the Bard Graduate Center, and the University of Queensland. In the museum world, he has worked at and researched multiple international institutions, such as the American Museum of Natural History, the University of Pennsylvania Museum of Archaeology and Anthropology, and the Queensland Museum. Currently, his research focuses on the material culture of murder, Imperial Japan's collection practices, and artistic entanglements with modernization in Bhutan.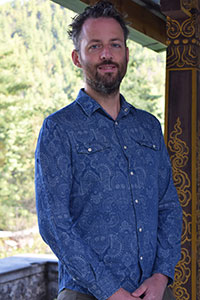 Thomas van der Molen is an anthropologist with a passion for hiking. He earned a BSc and an MSc in Social and Cultural Anthropology from VU University Amsterdam as well as an MA in Anthropological Research Methods and a PhD in Anthropology and Sociology from SOAS University of London. His doctoral research was possible thanks to a generous SOAS Research Scholarship. The resulting thesis revolves around phenomenological engagements with the ways in which sporadically documented Tibetan migrants affectively attune themselves to time. It is based on ethnographic research with Tibetans in Nepal and Switzerland. Thomas previously tutored students in Communication Science at the University of Amsterdam and in Anthropology at SOAS University of London. His current research interests are Tibetan migration, time, documentation, and ethnography.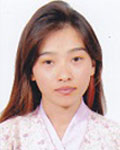 Tshering Lhamo Dukpa is from Tsirang Dzongkhag. She holds MA in Economics from Madras Christian College in Chennai, India, and BA (honors) in Economics from St. Edmund's college under North-Eastern Hill University in Shillong, India. She did her schooling in Dehradun, India. She has been teaching modules in Economics at Royal Thimphu College since August 2014.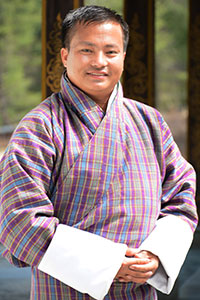 Mr. Tshewang Dorji graduated from Sherubtse College with a Bachelor's degree in Life Sciences. He has a Masters in Sustainable Development Practice (MDP) from the College of Natural Resources. He brings adequate field experience and theoretical knowledge to better understand, develop, and implement integrated approaches to sustainable development challenges. Before joining RTC, he worked in the Research and Hansard Division in the National Assembly. He was mainly engaged in conducting research and analysis works on legislation and policy issues related to the whole gamut of parliamentary functions. His research interest includes environmental humanities, climate change, wildlife conservation, and community-based disaster risk reduction and management. Besides teaching, Mr. Tshewang also enjoys traveling, reading, and bird watching.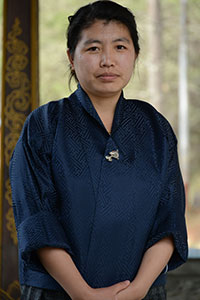 Ms. Jamyang Pelmo is from Trashigang, eastern Bhutan. She holds a Master's Degree in Development Practice from College of Natural Resources, Lobesa, and a BA in English and Environmental Studies from Sherubtse College, Bhutan. Before joining RTC, she worked with Gasa Dzongkhag as the Project Manager.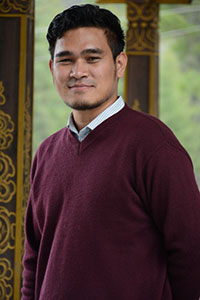 Roderick Wijunamai was an interdisciplinary researcher based in Mumbai. He holds a degree in English Literature from Manipur University, and an MA in Development Studies from Tata Institute of Social Science, Mumbai. He qualified NET/Lectureship in Sociology, and in Economics, conducted by University Grants Commission (UGC). Prior to joining RTC, he was working with Samvada Centre for Research and Resources, Oxford as a Consultant Researcher, and Ecole Hôtelière at Lavasa as a Visiting Research Tutor. Having done a stint of research in the field of faith and development, banking, and finance, particularly in India and East Africa, more recently, he is now exploring borderland lives and the social history of indigenous people in Northeast India.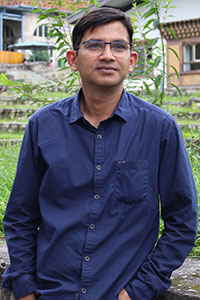 Mr. Rudrarup Mukherjee originates from West Bengal, India. He completed his M.A and M.Phil with a specialization in International Economics from Rabindra Bharati University, Kolkata. He was awarded UGC NET for Lectureship and West Bengal SET for Assistant Professor in Economics. Prior to joining RTC, he had been working in THK Jain College, Kolkata as a Faculty Member for eight years. Along with teaching and evaluation, he had performed as Coordinator and Nodal Officer of Internal Quality Assurance Cell and Joint Coordinator of NAAC Steering Committee in the same. Presently he is pursuing a Ph.D. from West Bengal State University. His area of research is "Impact of FDI on Developing Nations in a Neoclassical General Equilibrium Framework". Besides Economics, he is interested in reading, traveling and nature, and wildlife photography.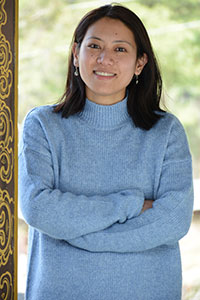 Ms. Jaja is from the northeastern state of Manipur. She did her schooling from the hill station town of Kalimpong. Currently, she is teaching in the Political Science and Sociology department. She is also pursuing her Ph.D. in Social Sciences from the Tata Institute of Social Sciences, Mumbai. Her Ph.D. thesis focuses on gender and migration, specifically looking at women from the northeastern state of Manipur employed in the service and hospitality sector in Delhi. She has a bachelor's degree in English Literature from Hindu College, University of Delhi. Her Masters in Social Work from the Tata Institute of Social Sciences, Mumbai. She has qualified the UGC-NET Lectureship conducted by the University Grants Commission. Ms. Kipgen was also awarded the Erasmus Mundus Ph.D. exchange scholarship. She has also presented her research papers at various international conferences and published some of her research work as book chapters and research articles. Her area of interest is gender, race, migration studies, women, and labor. Apart from academics, she enjoys traveling to new places, learning and experiencing new cultures, reading, and writing.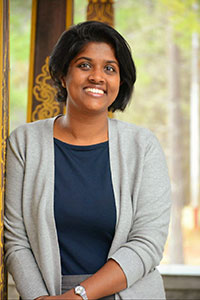 Nipunika Lecamwasam holds a BA (Hons.) in International Relations from the University Of Colombo, Sri Lanka, MA in Political Science from the Central European University, Hungary, and MAS in Transitional Justice, Human Rights and the Rule of Law from the Geneva Academy of International Humanitarian Law and Human Rights, Switzerland. Over the years, she has worked for intergovernmental organizations, think tanks, research institutes, and higher education institutions. Her research interests span conflict processes, transitional justice, youth, and peace, and democracy research.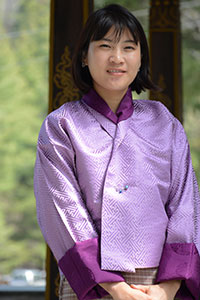 Ms. Tashi Choden is from Bumthang, Bhutan. Before she went to pursue her higher education, she served as an Assistant Librarian at the Royal Thimphu College from 2018- 2019. She completed her Master's degree in Anthropology from Savitribai Phule Pune University (SPPU) Pune, Maharashtra, and a Bachelor's degree in Sociology and Political Science from Royal Thimphu College. With a keen interest in reading, Tashi also served as a reading club coordinator during her college days and worked as a Student Library Assistant for a year. She is interested in community services and learning and experiencing new things.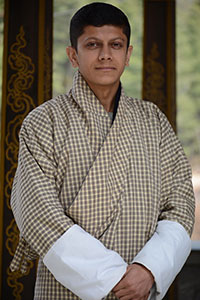 Mr. Bikram Sharma is from Samtse, Southern Bhutan. He has a Master of Science in Ecology and Environment Studies from Nalanda University, India. He graduated with a Bachelor's Degree in English and Environmental Studies from Royal Thimphu College. Besides teaching, his interest lies in bhakti-yoga, spiritual learning, and social services.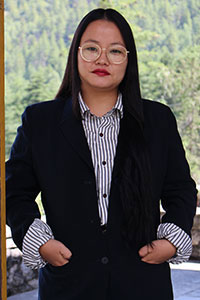 Ms. Nabam Tunia is from the state of Arunachal Pradesh, in India. She holds a BA (Hons.) degree in Political Science from St. Joseph's College, Darjeeling. She completed her MA in International Relations from Sikkim University. She has also completed her M. Phil from Jawaharlal Nehru University (JNU) in New Delhi and is currently enrolled as a Ph.D. candidate in Centre for East Asian Studies, Japanese Division, in JNU. Her doctoral thesis looks into Japan's Maritime Strategy while focusing on Japan-Australia's strategic maritime cooperation. She has qualified for UGC-NET conducted by University Grant Commission, India. Her research interests include maritime security, maritime economy and cooperation, security studies and international relations in general. Apart from academics, she is an avid nature lover. She enjoys gardening, traveling, and learning new languages is something that always intrigues her.