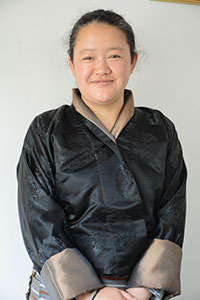 Ms. Sonam Deki is from Thimphu, Bhutan. She holds a B.A. in English with honors from Sherubtse College, a post-graduate certificate in Education from the National Institute of Education, Samtse, and a Masters's in Social Science with honors from the University of Newcastle, Australia. Before joining RTC, she taught literature and language for undergraduate programmes for Delhi University and the Royal University of Bhutan (RUB), as well as the post-graduate diploma in English for B.Ed teachers at Sherubtse College. She has management and administrative experience as the head of the English department at Sherubtse. In addition, she has worked on the development of the revised English curriculum for schools and has also taught English at higher secondary schools in Bhutan.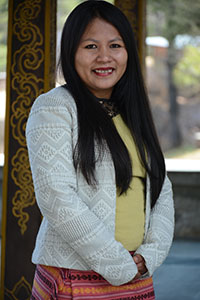 MS. VANLALLAWMKIMI
Associate Professor
Ms. Vanlallawmkimi is from Mizoram, India. She has an undergraduate degree in English from Loreto College, Darjeeling, and a post-graduate degree in English with a special paper in post-colonial literature from Darjeeling Government College under North Bengal University. She also has a diploma in Communicative English from North Bengal University. Before joining RTC, she worked as a part-time lecturer at Darjeeling Government College and at St. Joseph's College, Darjeeling.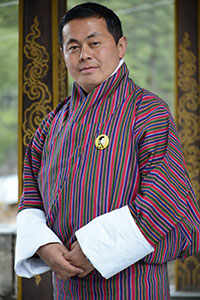 Mr. Sonam Tobgay is from Mongar, Bhutan. He completed his Master's Degree in Buddhist philosophy from Druk Gangtey Buddhist College. In addition, he studied at the Tibetan University in Utter Pradesh, India, for two years. He taught at Druk Gangtey Buddhist College and was also the principal of Chaskhar Shedra at Mongar. Before joining RTC, he was a freelance Dzongkha writer and has a couple of publications to his credit. In 2008 he was awarded the most prestigious certificate by the Royal Government of Bhutan for promoting Dzongkha. In 2010, he authored a book entitled Samchod Sheyeon, and for this book, he won the best Dzongkha writer award from the Dzongkha Development Commission. He also served a short stint as editor for the Dzongkha news for Business Bhutan, the only business newspaper in the country.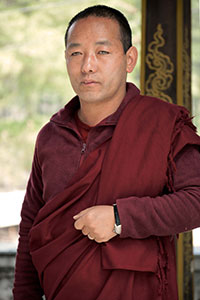 Mr. Tshoki Dorji has a Master's Degree in Buddhist Studies and has a working experience of nine years as a Lecturer at Tango Buddhist University in Thimphu.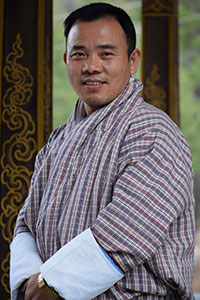 Karma Tshewang is from Trashigang, Bhutan. He completed his Masters's Degree in Buddhist Philosophy from Druk Gangtey Buddhist College. He taught at Bumthang Nunnery College for three years and also served as the Vice-Principal during his stay there. He also taught various Buddhist texts and related subjects at Chaskhar Shedra, Mongar, for two years. He served as a Dzongkha teacher at Reldri Higher Secondary School for five years before joining Royal Thimphu College.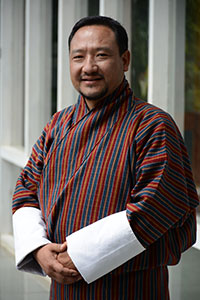 Mr. Kinley Tshering holds a Masters's Degree in Buddhist Studies from Tango Buddhist University, Bhutan. Mr. Tshering has worked 9 years in Rinchen Higher Secondary School, followed by 11 years and running at RTC. Mr. Tshering is interested in composing and singing songs and playing various sports.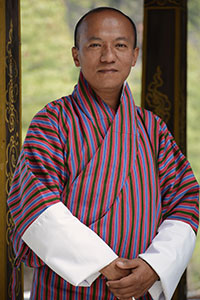 Mr. Mohan Rai is from Sarpang, Bhutan. He completed his Master's Degree in Education in 2010 under the Aus-Aid scholarship award from Monash University in Australia with a specialization in 'Leadership, Policy and Change'. He has a degree in BA English Honours from Sherubtse College and a postgraduate in Education from Loyola College of Education in Sikkim. Prior to joining RTC, he served as a Vice-Principal at Kelki Higher Secondary School and also taught English literature and language for 19 years. He has an extensive level of exposure to multidisciplinary educational and leadership programmes through various training programmes and workshops such as developing the strategic blueprint of the Beacon School project in Singapore, one of the premier projects of Royal Education Council, English for Effective Communication, Transformative Pedagogy, and many more. He has also facilitated some of the relevant training programmes for the Bhutan Institute for Training and Development (BITAD) as a resource person.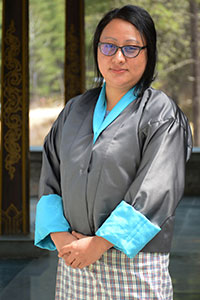 Ms. Dechen Pelden is from Thimphu. She holds a Masters's Degree in English and Literature from English and Foreign Language University, Hyderabad, India. She has also undergone the Post Graduate Certificate in Education from the Samtse College of Education.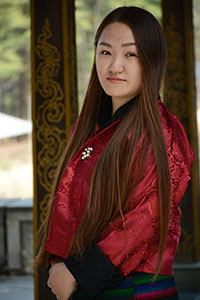 Ms. Sangay Choeytshok Wangchuk is a former student of Royal Thimphu College and holds a Bachelor's Degree in English and Environmental Science. She has a Master's Degree in Professional English Media Studies from Assumption University in Thailand.
Ms. Paromita Manna has her origin in Kolkata, West Bengal, India. She holds an Honours Degree in English Literature and acquired her Master's degree as well in the same from the University of Calcutta. She also bears a Bachelor's degree in Education (B.Ed) from the aforesaid university. She carries experience teaching at the undergraduate level in the Department of English for nine years. She even contributed to the NAAC Accreditation process in the previous academic institution as a member of the NAAC Steering Committee. Besides her passion for teaching, she is fond of reading books of different genres, takes much interest in composing poetry, and simultaneously is enthusiastic about traveling and portraying the beauty of Nature through her photography.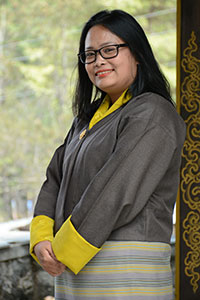 Ms. Ruma Tamang is from Tsirang, Bhutan. She has a Bachelor of Arts degree from Fergusson College, Pune. In addition, she studied at the University of Pune (currently known as Savitribai Phule Pune University), where she completed her Master of Arts degree in English. She has previously taught at Kelki Higher Secondary School and worked under the Thai English Development Programme at Rinchen Higher Secondary School. She has previously worked at RTC and rejoined in the fall semester of 2019. She enjoys reading and visiting new places.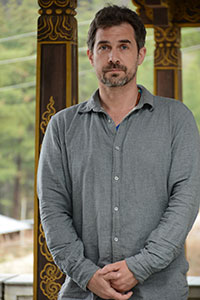 Dr. Joseph McClellan is from the United States and holds a BA (2001) in History from the University of Washington. From 2001-2003, he studied Tibetan language and Buddhist philosophy at the Rangjung Yeshe Institute in Kathmandu before earning his MA (2005), MPhil (2010), and Ph.D. (2013) from Columbia University's Department of Religion, where he specialized in Tibetan Buddhism and Comparative Philosophy. As an adjunct instructor and teaching fellow at institutions such as NYU, The New School, Hofstra, Northland College and Columbia University, he taught Asian and Western Philosophies, Religious Studies, and Gender Studies before becoming an Assistant Professor of Philosophy in 2016 at the Asian University for Women in Bangladesh. In 2018, he joined the Pre-Collegiate Programme of Yangon, where he taught World Philosophies and led a reading group in Buddhist literature. In addition to his teaching, he has written on Western and Buddhist philosophy and published translations from French and Tibetan. His primary interests are the history, philosophy, and literature of Buddhism.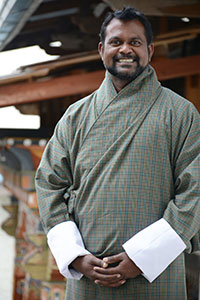 Nithil Dennis holds a Degree in Visual Communication, specializing in Photography from Loyola College, Chennai, and a Post Graduate Degree in Electronic Media, specializing in Film and television production. He also has a Diploma in Printing Technology. He is a UGC-NET qualified academician with 10 years of teaching experience in various leading educational Institutes, holding important positions and responsibilities. He has worked with leading photographers and filmmakers, which include International Award-winning Environment and wildlife filmmaker and photographer, Mike Pandey. He has directed and filmed two documentaries, which have been screened in International Film festivals. He has produced documentaries for NDTV, a leading news channel in India. Moreover, he has worked in Argentina as a Photo and Video journalist for an English news website based in Buenos Aires. He loves to travel and has a strong sense of identifying photo stories. His research interest is 'Storytelling through visuals and Representation of ethnographic Communities'. He has a special interest in Visual Anthropology and social documentary. He is currently pursuing his research in the field of Visual Communication.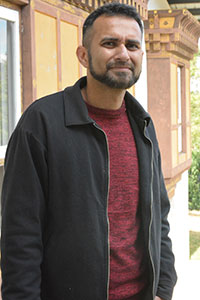 Dr. Sunil Kumar is from Himachal Pradesh, India. He completed his undergraduate and postgraduate studies from the University of Delhi and his M.Phil. and Ph.D. from Jamia Millia Islamia University, Delhi. His areas of interest include literary criticism and theory, visual culture, and aesthetics. He also translates fiction from Hindi to English and has translated and published several short stories by Munshi Premchand. He has taught at the University of Delhi for more than ten years and has also served as an Assistant Language Teacher in the Japanese Government School system for a year before joining Royal Thimphu College.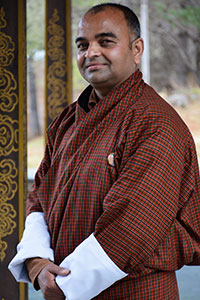 Mr. Damber K. Ghimiray prior to joining Royal Thimphu College worked for Bhutan Broadcasting Service Corporation for 15 years and then became a private media consultant and trainer. Mr. Ghimiray holds a Master's Degree in Communication Arts from Bangkok University in Thailand. Having completed his primary education in Tsirang, Bhutan, he moved to Khaling in Tashigang and then to St. Joseph's College in Darjeeling, India to complete his Bachelor's Degree in Biology Science. Mr. Ghimiray is widely exposed to international training, seminars, and workshops. He has lived in Singapore, Australia, Netherlands, Nepal, China, India, Thailand, and the Philippines for the same. He loves driving, cooking, and writing media articles in his free time. He frequently contributes his theoretical analysis to Kuensel and other newspapers in Bhutan.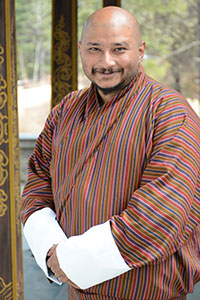 Mr. Utsav Khatiwara Sharma is from Tsirang, Bhutan. He has worked in the media, publishing, technology, and CSO sectors prior to joining RTC. He holds a BE in Electronics and Communications from Bangalore, India. His key interest areas are creative writing, poetry, science fiction, and technology.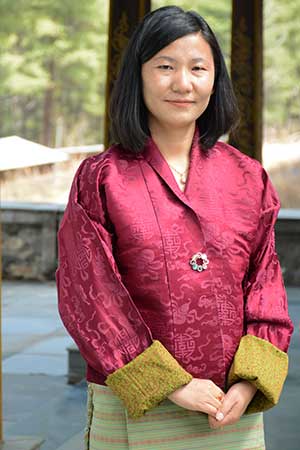 Ms. Palden Wangmo is from Paro, Bhutan. She holds a BA in English with honors from Salesian College Sonada, Darjeeling, India. She also has a post-graduate diploma in Education from the then National Institute of Education, Samtse, and a Master's Degree in English for Professional Development from Mae Fah Luang University (MFU), Thailand. She is also the recipient of Best Speaker in Research Presentation in the 5th National and International Conference on Curriculum and Instruction in Nakhon Ratchasima, Thailand. Prior to joining RTC, she taught English and offered Career Counselling to higher secondary students for six and half years and also worked as the Research Advisor and Language Lecturer at Mae Fah Luang University (MFU), Thailand, for four years. In addition, she is also an avid volunteer at the Disabled People's Organization of Bhutan.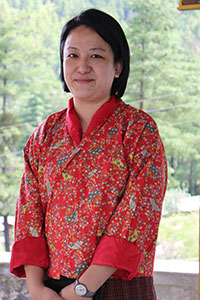 Ms. Sonam Peldon is from Thimphu, Bhutan. She holds a Master's degree in Education specializing in curriculum and instruction from Assumption University in Thailand and a Bachelor's degree (General) from Indraprastha College for Women, Delhi University, majoring in History and Political Science. She has 9 years of teaching experience in Bhutan as well as in Thailand to the students of Grade 4 – 12, prior to joining RTC. Her personal interests include traveling and watching movies.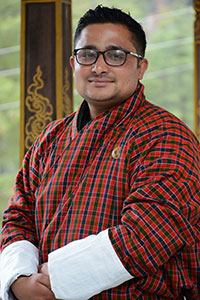 Mr. Prakash Ghimirey, hailing from the breathtaking valley of Mendrelgang, Tsirang, has completed PGD in Journalism from the Asian College of Journalism in Chennai as a South Asian Foundation scholar in 2018. Being passionate about journalism, he also pursued Bachelor in Tourism, History & Journalism from Garden City College at Bangalore in 2016. Before joining RTC, he was a Media Studies Teacher at the sister school of Kelki Higher Secondary School at Trashigang, the first-ever private school in the country.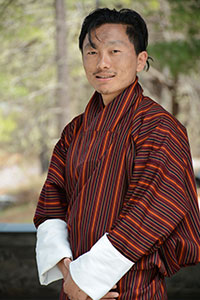 Mr. Chencho Dorji is from Pemagatshel, Bhutan. He completed his Master's Degree in Historical Studies from Nalanda University, India, and BA Honors in Bhutanese and Himalayan Studies from the College of Language and Culture Studies. During his postgraduate programme, he successfully completed his thesis on, 'Cultural History of Mandala: Understanding a Sacred and Secular in Bhutan's Buddhist Art.' As an enthusiastic researcher, especially in the field of the indigenous cultural heritage of Bhutan, he has successfully presented two research papers during the Honors programme, titled, 'Chungkhar Nagtsang: The Rise and Fall of Nobilities,' and 'Tsatsi Buram: The Traditional Way of Manufacturing Brown Sugar in Dagor Community.' His interest includes research, reading books, particularly of Buddhist philosophy and history. Aside from that, he is also a contemporary artist (beginner), sportsman, musician, song composer, and documentary filmmaker.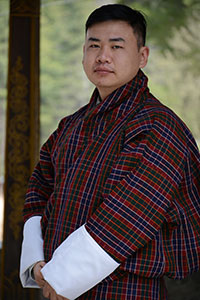 Mr. Jigme Gyeltshen is from Thimphu, Bhutan. He has a Bachelor's degree in Computer Graphics and Multimedia from BUIC (Bangkok University International College), Thailand. He is also a certified VFX artist from Ibest Institute, Thimphu.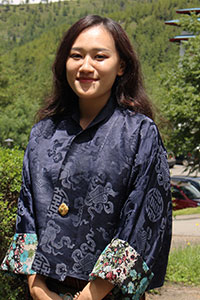 Ms. Dilisha Subba is from Tsirang, Bhutan. She completed her Masters in English from Pune University in India. She has a Bachelor's degree in English and Environmental Studies from Royal Thimphu College. Besides teaching, she enjoys reading, traveling, and listening to music.