Since the launch of the RTC Alumni Association on July 17, 2019, the Alumni office has taken proactive steps to reach out to RTC Alumni and keep them engaged by organizing various events that are to their benefit. The office will continue to organize such events and also add on other interactive programs in the coming semesters, mainly with a view to build and maintain a strong Alumni network that is mutually beneficial for both the college as well as the alumni members. One positive way for alumni to get involved and do something worthwhile is to collectively take up certain challenges and achieve a set target while also making a significant change or contribution to their alma mater. On its part, RTC can recognize and acknowledge such efforts and contributions from alumni. Acknowledgment of alumni contributions was one feedback that we have received from an alumni survey that was carried out earlier.
To start off, we want to put up a challenge to fundraise for the lighting of the RTC tower. The College tower is a beautiful and significant structure on the campus that hosts the college altar room and a photo gallery, providing serenity to its visitors and aesthetic beauty to the college. It is and will remain an integral part of college life for RTC students. However, the beauty of the tower is not visible at night time due to a lack of proper lighting. This also causes some security concerns as the area around the tower remains dark at night time.
The RTC alumni now have an opportunity to come together and make a difference to their alma mater campus. Professor Jeff Timm from Wheaton College, who also has fond memories of serene and spiritual moments spent at the tower, has agreed to match donations from Alumni members of up to Nu 70,000 total to illuminate the RTC tower with LED floodlights.
The Alumni Association Office will start off the fundraising efforts with a call for contributions through individual emails to its members as well as announcing the challenge on its social media platforms. We will also use any alumni gathering as an opportunity to fundraise for the cause. The members are encouraged to contribute any amount they want.
Donations from within Bhutan can be made in any of the following options.
(Please remember to keep a copy of the screenshot or deposit slip or cheque number as proof of payment and email us at This email address is being protected from spambots. You need JavaScript enabled to view it.)
1. Payment via mobile banking (MPay or MBOB or TPAY) or internet banking:
| | | | |
| --- | --- | --- | --- |
| BOB | MBOB | 100917217 | Bank of Bhutan |
| BNB | MPAY | 0000053172015 | Bhutan National Bank |
| TBANK | TPAY | 77711015467001 | TBank |
Or, scan our QR Code and make the payment directly from your Mobile Banking: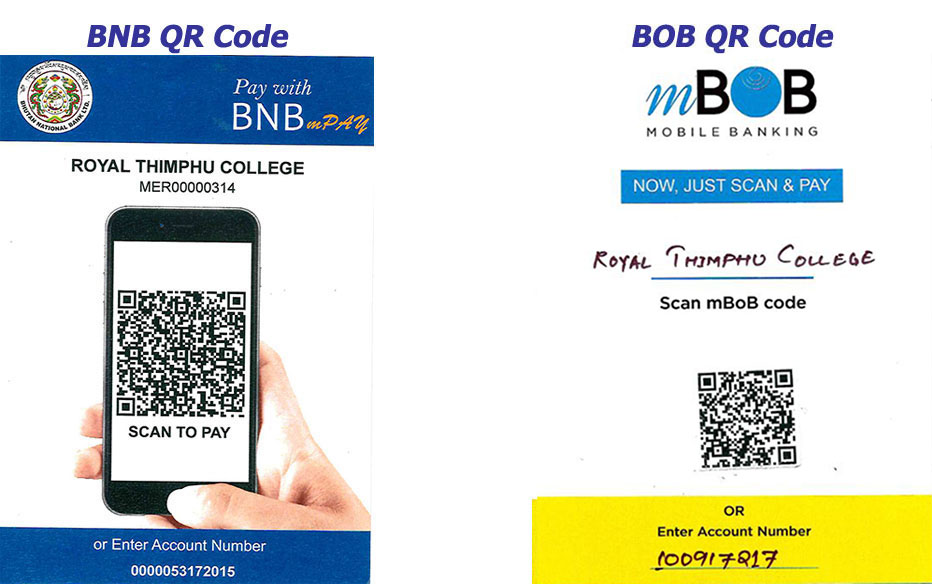 2. Payment via direct deposits into RTC Accounts:
BNB Account No.: 0000053172015
RTC's BoB Account No.: 100917217
RTC's TBank Account no.: 77711015467001, Thimphu Branch.
(Please email a copy of the counter-foil of the deposit slip at This email address is being protected from spambots. You need JavaScript enabled to view it..) For cash or cheque donations, please visit our City office at Changlam Plaza or the Business Development Office at the RTC campus, Ngabiphu.
3. For donations from abroad:
Wire transfer Instructions for remittance to Royal Thimphu College through Bank of Bhutan (Foreign Currency - USD) Account
Beneficiary Name and Address
Royal Thimphu College PO Box 1122 Ngabiphu, Thimphu 11001 Bhutan
Beneficiary Bank and Address
Bank of Bhutan Ltd. City Mall, Chubachu Thimphu 11001 Bhutan
Beneficiary Bank SWIFT CODE
BHUBBTBT
Beneficiary Account No
201501168
Beneficiary Bank Branch Name
Thimphu
For wire transfer providers that require or allow mention of the correspondent (intermediary) bank, please use:
Receivers' Correspondent Bank (Intermediary Bank)
Standard Chartered Bank One Madison Avenue New York, NY 10010-3603 USA Swift Code: SCBLUS33
(Please email a copy of the counter-foil of the deposit slip at This email address is being protected from spambots. You need JavaScript enabled to view it..)
Another way for alumni members to be involved in the fundraising efforts of the Association, other than directly contributing funds, is to organize their own fundraising efforts as a collective group to raise the funds. This will ensure a wider outreach and will also have the added benefit of previous classmates coming together for a good cause. Some examples of such efforts would be a fundraising party, bake sales, or any such event that is designed to raise funds for a charitable cause.