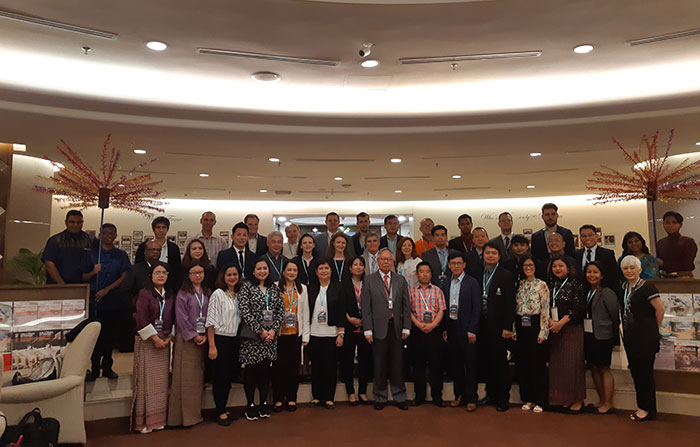 The Royal Thimphu College has collaborated with Varna University of Management in Bulgaria along with 11 other Higher Education Institutes from Asia and Europe for the Key Action 2: Cooperation for innovation, capacity building and exchange of good practices. With this collaboration the project 'FRIENDS- Furthering International Relations Capacities and Interculture Engagement to Nurture Campus Diversity and to Support Internationalization at Home' The Key Action 2 programme mainly focuses on sharing of good practices and enhance capacity building specifically for the Asian Higher Education Institutes. The FRIENDS project will run for 3 years from 15th November 2018 to 14th November 2021, and during this project period a total of 7 meetings will be held in 7 countries of the participating partner institutes.
The first Kick-Off meeting of the project was held in Malaysia in collaboration with our partner from Malaysia, Berjaya University from March 04 – 08th March, 2019. Ms. Leki Dem Tamang (Assistant Finance Officer) and I, Ms. Tshering Choden (International Relations Officer), were nominated to represent the Royal Thimphu College for the kick off meeting. The kick off meeting started with an official opening by Prof. Walter Wong, Vice-Chancellor of Berjaya University College (BUC) who greeted the participants to Malaysia, Kuala Lumpur and the Berjaya premises. Prof. Todor Radev, President of Varna University of Management (VUM) welcomed the participants to the FRIENDS project and thanked everyone for the trust and support in joining VUM in this exciting journey. Following the official opening, Varna University of Management did an introductory session to the FRIENDS project focused mainly on the project's theoretical background that is the concept of internationalization at home (IaH).
All the partner universities were also given the platform to introduce themselves and their Universities via power point presentations and promotional videos. After the individual partner presentation, the team from Varna University of Management briefed all the partners on the project and contract management workshop. Following the project and contract management workshop, we were asked to nominate 1 University to be in the Steering Committee from each country for the first half tenure of the project (18 months). The following days, we were briefed and given parallel workshops on the various work packages/ aspects of the FRIENDS project, after which roundtable discussion was held for the Asian Higher Education Institutes on VAT equipment tendering procedures and instalment, etc. On 07th and 08th March, we were briefed on the Financial Management of the project, the financing principle and the budget allocation and claim procedures for the project, Dissemination and exploitation panel, Brand image workshop, Quality Panel and programming of Year 1 project activities including upcoming partner meetings in Turkey and Cambodia. The kick off meeting was closed with the awarding of certificates for all the participants, and a debriefing session.
~ Ms. Leki Dem Tamang and Ms. Tshering Choden