August 5th, 2021 - 3:00 PM
Bhutan is fortunate to be able to continue educational activities in the face-to-face mode. Classes for Autumn 2021 started today and the semester is in full swing. All students and employees are required to follow the updated health and safety guidelines:
Current RTC Campus Operations Guidelines
Video briefing: RTC Autumn 2021 Health and Safety Guidelines
---
June 14th, 2021 - 3:00 PM
Update: Lockdown lifted with immediate effect, and the regular RTC academic schedule will resume from tomorrow. We were fortunate this time -- the lockdown had came as yet another reminder of our vulnerability during this pandemic. Our preparation and preventative actions have been satisfactory so far but can always stand to be improved. Following the norms of masking strictly, distancing, and avoiding gatherings can help prevent outbreaks from becoming severe and show that we can all do our part to contribute to the safety and well-being of others. Let's keep up our shared responsibilities!
---
June 14th, 2021 - 12:00 PM
We received the news along with everyone else on the evening of Saturday 12th June that there would be an immediate lockdown in Thimphu (Hon'ble Prime Minister's press release). The lockdown is due to initially last for 72 hours pending the appropriate follow-ups as per the national protocols. Our contingency plans are in place for lockdowns such as this, so we'll proceed systematically as we have before. The latest information as of now from the Ministry of Health is that the results of the contact tracing are all negative.
As of last week's Monday's (7th June) routine mobile flu clinic testing, all samples from around the RTC locality tested negative, including workers from our college cafeteria, dining hall and convenience store workers. More mobile flu clinic tests are being done today (14th June). The College will continue to work with health officials and other relevant authorities on the next steps, and your continued cooperation with any directives that may come will be highly appreciated as always while we do our part to ensure the safety and wellbeing of our community and all others around us.
Campus procedures
All persons on campus: please keep your masks on outside your own residence rooms, wash hands frequently, maintain physical distancing, and avoid any gatherings. Our campus will maintain isolation, so there should be no further movement in or out of the College gate. We will ensure essential support services and supplies are available.
Academics
As it is uncertain how long the lockdown will last, we'll proceed in online mode with online classes scheduled from Tuesday, and will remain ready for online mode for the rest of the semester if necessary. This will allow us to adhere to our academic calendar as best as possible provided that everyone's safety and wellbeing are ensured. Should the lockdown be lifted, we will switch back to the standard face-to-face mode.
Keep these key contacts handy for requesting support:
For health and well-being, please contact the College nurse Ms. Deepanjali Dewan (

This email address is being protected from spambots. You need JavaScript enabled to view it.

, 17581088) or the College counsellor, Ms. Tenzing Choden (

This email address is being protected from spambots. You need JavaScript enabled to view it.

, 77775557).
For residence-related needs, please contact the Residence Assistants (RAs), the Male Mentor Mr. Tashi (

This email address is being protected from spambots. You need JavaScript enabled to view it.

, 17894357), or the Female Mentor Ms. Pema Yangchen (

This email address is being protected from spambots. You need JavaScript enabled to view it.

, 17653422).
For estate-related needs including electricity and water, please contact the Sr. Estate Officer Namgay Wangdi at

This email address is being protected from spambots. You need JavaScript enabled to view it.

or 17942223.
For IT-related needs, please correspond by e-mail to

This email address is being protected from spambots. You need JavaScript enabled to view it.

, or for urgent needs, the IT Manager's support hotline is 77457546.
For academics, programme leaders, year guides, and tutors will be in touch with the respective students directly. Class schedules are available at results.rtc.bt and my.rtc.bt. For general academic queries, please contact

This email address is being protected from spambots. You need JavaScript enabled to view it.

.
---
February 8th, 2021 - 12:00 PM
We've been busy! Despite the winter lockdown, we are on track to start the Spring semester as scheduled. We were fortunate to have our prior semester successfully concluded before the nationwide lockdown 2.0 took effect. Due to everyone's cooperation, we are in a relatively good position for starting the new semester. Thank you once more to all our faculty, staff, students, and families for your perseverance and commitment to excellence even under these unfamiliar circumstances as we implement the new normal!
I'm happy to share our Spring 2021 plan and let you know about what's been happening at RTC.
Spring 2021 reopening
Check the Complete guidelines for Campus Operations from February 2021.
We are confident that the facilities and protocols in place meet the requirements of the health and education ministries for educational institutions -- college officials have recently received the required sensitization and training on the updated health and safety protocols.
Regular academic timings will resume from Monday 15th February, along with the resumption of face-to-face classes and all other protocols that were in place immediately before the lockdown. In this regard the following dates and guidelines for reopening may kindly be kept in mind:
February 14 -- Nursing programme boarding students should return to residence halls.
February 15 -- Classes begin for Nursing students.
February 15-17 -- Reassessment exams for Fall 2020 modules. Check schedule and details here.
February 23 -- All other boarding students may join at the residence halls.
February 24 -- Classes begin for all RUB programmes

.
The College would like to emphasize once more that our health and safety protocols are very important and should continue to be observed seriously. The most visible of these is distancing and wearing masks: these are required at all times around common areas on campus except while eating. Some movements will remain restricted outside of the normal day timings: The entry and exit of resident students at the main gate will be restricted from 6:30 pm daily. Day scholar students in full-time programmes should exit by this time, and CE students should exit by 8:30 pm. Day students and others are not allowed into the residence hall premises.
Avoid unnecessary gatherings, wear face masks outside your residence, wash hands frequently, and use Druk Trace app at all designated posts.
This Spring, be ready for occasional Covid testing every two weeks, randomly covering 10% of the student and staff population.
Keep these key contacts handy for requesting support:
For health and well-being, please contact the College nurse Ms. Deepanjali Dewan (

This email address is being protected from spambots. You need JavaScript enabled to view it.

, 17581088) or the College counsellor, Ms. Tenzing Choden (

This email address is being protected from spambots. You need JavaScript enabled to view it.

, 77775557).
For residence-related needs, please contact the Residence Assistants (RAs), the Male Mentor Mr. Tashi (

This email address is being protected from spambots. You need JavaScript enabled to view it.

, 17894357), or the Female Mentor Ms. Pema Yangchen (

This email address is being protected from spambots. You need JavaScript enabled to view it.

, 17653422).
For estate-related needs including electricity and water, please contact the Sr. Estate Officer Namgay Wangdi at

This email address is being protected from spambots. You need JavaScript enabled to view it.

or 17942223.
For IT-related needs, please correspond by e-mail to

This email address is being protected from spambots. You need JavaScript enabled to view it.

, or for urgent needs, the IT Manager's support hotline is 77457546.
For academics, programme leaders, year guides, and tutors will be in touch with the respective students directly. Class schedules are available at results.rtc.bt and my.rtc.bt. For general academic queries, please contact

This email address is being protected from spambots. You need JavaScript enabled to view it.

.
What else is new: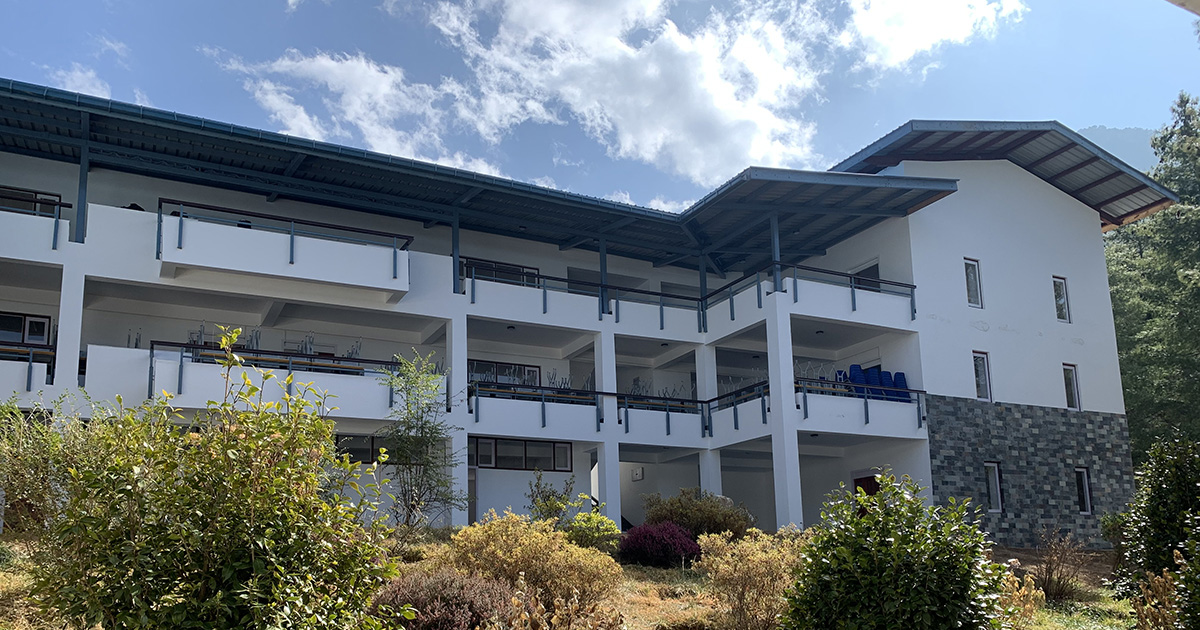 We have a new building on campus: The B-wing extension will be ready for classes shortly and we look forward to accommodating our Nursing student labs and other classes in this building. Besides the Nursing programme, the College will be phasing-in four-year degree programmes from here on, starting with the new four-year BSc in Environmental Management, launching Autumn 2021.
New Admissions are underway. Continuing Education applications are already being accepted, and regular programme admissions will start as soon as the Class XII results are declared this Spring. We look forward to welcoming another cohort of students for this Autumn's intake. The College anticipates introducing some new scholarships this year as well.
The fee structure will remain the same for the 2021-22 academic year. The pandemic has caused tremendous hardships to all sections of society. RTC is no exception, and has faced a very challenging financial situation with substantial increase in costs due to various mitigation measures. Despite these challenges, the College has, and will continue to provide the best possible resources and interventions to ensure the highest quality education for our students. Whereas, every year, there is a nominal increase in fees, for the 2021-2022 Academic Year, there will be no increase, and the current/existing fees will apply.
We're pleased to welcome a new student dining hall operator, who has been working closely with the College the last month to get things ready for our students. The College is proud to have one of the best student dining facilities in the country, and will continue to ensure proper quality.
The outdoor gym equipment has been installed outside the existing Fitness Centre and is ready for use. We are deeply grateful to the Ministry of Health for this wonderful and timely gift.
I wish everyone the best in the days ahead and I look forward to seeing everyone around campus again soon.
Sincerely,
Tshewang Tandin
President
---
---