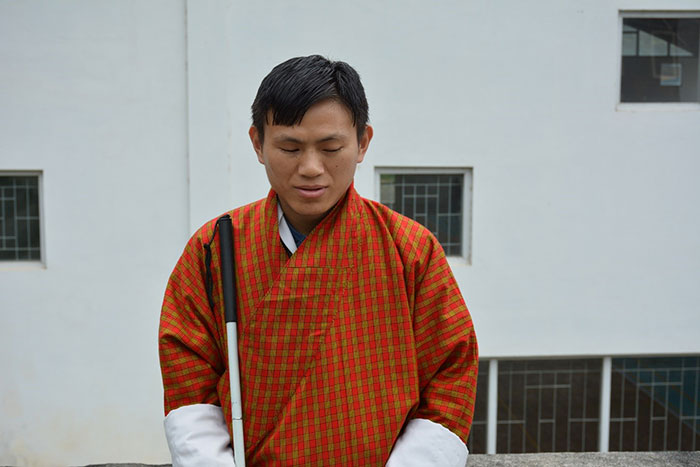 Sangay Dorji is now a first-year student at Royal Thimphu College pursuing a Bachelor's degree in Dzongkha History. Sangay has been provided a full scholarship by RTC in keeping with the College's mission: To be a crucible of new ideas and knowledge that serves to enrich people's lives and enhance the welfare of society.
Sangay, a 26-year-old visually impaired young man from Gongdu, Mongar left his hometown in 2015 in hopes of finding a job in Thimphu. Born to a family of seven siblings, Sangay's older brother and younger sister are also visually impaired. He started his early education at Khaling Muenselling School for visually impaired children and later on moved to Jigme Sherubling Central School as part of inclusive education in Bhutan. After he graduated from high school, he came to Thimphu and was approached by the 'Disabled Persons Association of Bhutan' (DPAB) and was offered a training opportunity in High-Quality Healing Therapy and Massage (SPA). After completing his training, he worked at a day spa in Thimphu for a year and a half and later at Gangtey Resort in Phobjikha.
Sangay aspires to be either a Dzongkha teacher or a Dzongkha Development Commission officer. With many Bhutanese literates preferring to speak in English, he fears the loss in value and importance of the national language. He says that he was interested in studying the Dzongkha language since he was a child but faced challenges because he was differently abled. However, he has not let that stop him from achieving his goals.
Sangay feels very happy with the caring environment he is experiencing at RTC, "I have been invited to share my experiences at RTC and asked about the challenges and necessary measures needed to make my learning experience easier, but I haven't had many difficulties so far."
Sangay wants to share his story to create more awareness and challenge the stereotypical beliefs regarding the potential and capabilities of children and adults who have special needs. According to him, "Everyone knows that people who are differently-abled have challenges and hardships but what they don't know is that we have hopes and dreams too."