Comfutura Foundation Scholarship selection is completed for 2018. Prior year information is shown below for reference only.
The winner of the 2018 Comfutura Foundation Scholarship is Kinza Lham from Punakha.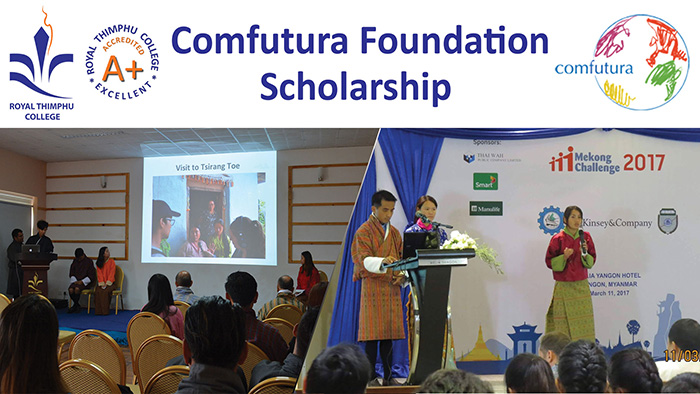 The Comfutura Foundation in Germany provides one fully-funded scholarship (tuition, hostel and food) with modest additional funds for basic stationery purchases for studies at Royal Thimphu College for 3 years. The Scholarship is provided to an outstanding female applicant with demonstrated clear financial need. Preference is given for those applicants planning to study Business or Economics, but others will be considered.
Applicants must have a minimum of 60% aggregate in English and 3 best subjects.
Evidence of your financial need is also required.
Applicants should register online for admission and then submit the Comfutura Foundation scholarship form in hard copy along with the Need-Based Scholarship Financial Eligibility Form. The forms can be downloaded from the RTC website or can be collected from the RTC city office at room #56, Chang Lam Plaza, Thimphu or the RTC admission office at Ngabiphu.
The completed application form can be submitted at the RTC office, Ngabiphu or the RTC city office at Chang Lam Plaza. Short-listed candidates will be announced on our website and will be called for an interview.
Download the Comfutura Foundation Scholarship Application Form
Download the Need-Based Scholarship Financial Eligibility Form
Comfutura Foundation Scholarship applications for 2018 now closed
For more information, please contact our office @ 02-351801, ext# 105/119 
Ms. Mon Maya Chettri, the RTC graduate who received the first Comfutura Foundation Scholarship:
"The scholarship from the Comfutura Foundation relit my dying hope of a college education. It was a great privilege and I will always be proud to be associated with this foundation which gave me the opportunity to achieve my aspirations, an opportunity which strengthened my determination to achieve higher goals in life".